EPREL Registration Help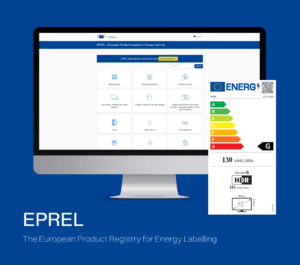 Since 1 January 2019, suppliers (manufacturers, importers or authorised representatives established in the EU and EEA (Norway, Iceland and Lichtenstein)) must register products required to have an EU energy label in the EPREL database before placing them on the EU market. As part of the Northern Ireland (XI) Protocol under the UK withdrawal agreement from the EU, these rules also apply in Northern Ireland as well (after 1 January 2021). 
How to register?
Manufacturers established in third countries (i.e. outside EU/EEA and XI) need an importer or a legal representative established in one of the countries mentioned above to register their products.
Before registering their products, suppliers need to register their organisation and get it electronically verified.
Why are qualified electronic seals used in EPREL?
Qualified certificates for electronic seals are issued by a Qualified Certificate Authority (CA), as an electronic attestation that links electronic seal validation data to a legal or a natural person, and confirms its identity. The EU Login being only a 2-factor authentication system, EPREL needs to verify:
• The real existence and identity of the EPREL organisation, acting as supplier;
• The establishment in the EU/EEA or Northern Ireland territory of the organisation (for compliance enforcement needs)
• The entitlement of the Supplier Admin to act on behalf of the organization for the purpose of registering models in EPREL.
In other terms, to respect the basic security principle of authenticity, i.e. the guarantee that information is genuine and from bona fide sources, EPREL delegates the verification of the identity and of the basic requirement of being established in the EU, the EEA or Northern Ireland, to qualified third parties, such as the Certification Authorities.
VEP.si identity verification services
VEP.si offers support to customers when registering an EPREL user account – we can provide you with an electronic signature stamp and offer an electronic signing service.